Information and communication technology 1
The Game Design Pre-Academy is designed to introduce students to a wide variety of content areas over the span of three years. Students begin their time in Information and Communication Technology 1 (ICT1) in which they learn the basics of story telling and game design through a variety of programs such as Microsoft Office, Twine, Gamestar Mechanic and Minecraft EDU.
ICT 1 Example Projects
Piskel App Gifs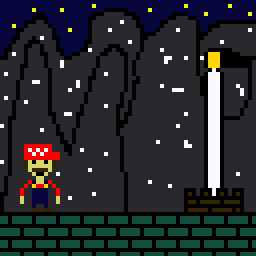 ---
fundamentals of web design and software development
Second year students are enrolled in Fundamentals of Web Design and Software Development. This course allows the students to explore the behind the scenes elements of game design and marketing while developing a few more involved games throughout the year. Students create a game development companies website and post their work to that site throughout the year. They dig more into the elements of effective story telling but also into marketing and digital design and music production.
Fundamental of web design - Examples
Student Company Logos
---
The environment the students work in is constantly evolving and changing. The classroom decorations consist of game advertisements that are used as both incentive rewards and project examples. Second year students are introduced to the emerging and growing world of virtual reality through the class's Oculus Rift headset -- with students that show advanced skill being given the chance to design games for virtual reality in Unity. We currently have two Alienware computers used for advanced projects and 30 standard student work stations. The goal is to provide students with an atmosphere that is both engaging and immersive to draw out the absolute best in regards to their creativity.